Veolia Nuclear Solutions - Federal Services (VNSFS) and its mentor-protege partner are helping to modernize security at one of the nation's vital national security facilities.
CTI-VNSFS Environmental, LLC (CVE), the contractor installing new sections of a security system at the Y-12 National Security Complex, in Oak Ridge, Tennessee, recently completed a project milestone ahead of schedule. The joint venture company grew out of a Small Business Administration (SBA) Mentor-Protégé arrangement between CTI & Associates, Inc., and VNS Federal Services, which the SBA approved in July 2020.
The perimeter intrusion, detection and assessment system (PIDAS) project is part of an overall plan to shrink the high-security footprint of Y-12. It is part of a Security Infrastructure Revitalization Program (SIRP) at the Y-12 complex in Oak Ridge.
Y-12 is a government-owned facility managed by Consolidated Nuclear Security, LLC (CNS) for the U.S. Department of Energy (DOE). National Technology and Engineering Solutions of Sandia, LLC (NTESS) is the construction manager for the SIRP effort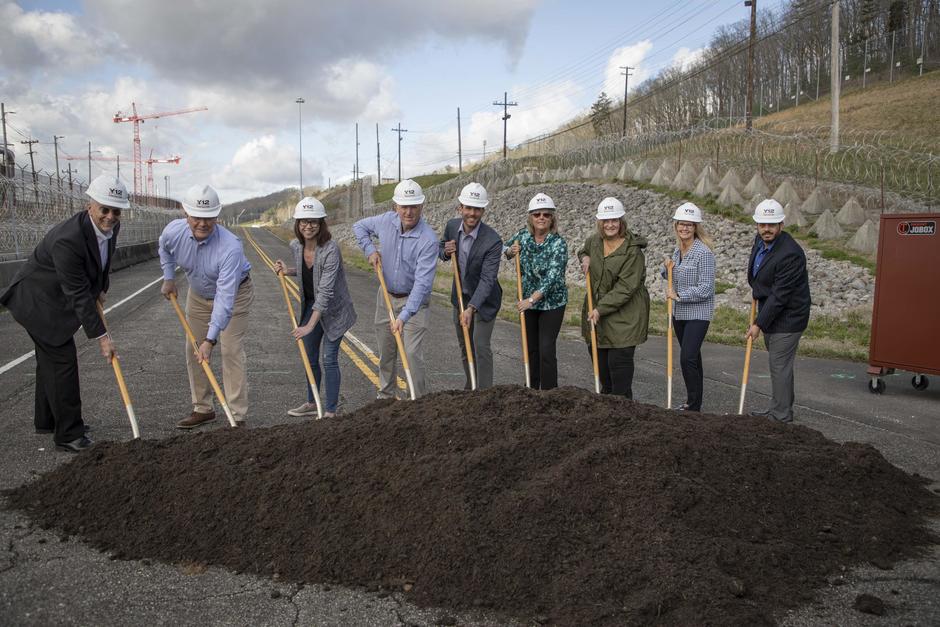 NNSA Breaking Ground
NTESS awarded the PIDAS contract to CVE in November 2021 and the DOE's National Nuclear Security Administration (NNSA) broke ground on the project in April. "We've been planning some of these projects for several years, so it's exciting to see them move to implementation," said Teresa Robbins, NNSA Production Office manager, following the groundbreaking. "This modernization effort enhances our protection of this vital national security facility."
Recently, CVE completed the first quadrant of the retaining wall for PIDAS ahead of schedule, according to Project Manager Michael Lamon. The company has also completed demolition and removal of the existing features, placement of fill materials and installation of security trenches. Good communication with project stakeholders has helped to optimize delivery and resolve potential issues well in advance of construction, Lamon said.
The PIDAS was first installed at Y-12 in 1988, but the age of the system is not the only driver for SIRP. According to the NNSA, the revitalization program incorporates modern technologies to enhance the already robust security system at Y-12. SIRP also includes security upgrades for key facilities and a new personnel and vehicle entry control facility that will better protect personnel from severe weather and improve the efficiency of entry and exit. SIRP also interfaces with other site upgrades, including the West End Protected Area Reduction Project (WEPAR), which broke ground in the spring of 2021. The goal of the $159.9 million WEPAR project, slated for completion in July 2025, is to improve the security posture of the Y-12 site while reducing future cleanup costs of large legacy production buildings by providing easier access to those buildings no longer requiring heightened security protection.
CVE expects to complete the PIDAS project (all testing and integration done) in the summer of 2024. 
About VNS Federal Services
VNS Federal Services, LLC, is a company formed to deliver Veolia's robust capabilities to the U.S. government. VNS Federal Services is a subsidiary of Veolia Nuclear Solutions, backed by thousands of employees and more than 2,000 patents, and dedicated to providing solutions on nuclear, waste management, remediation and secure infrastructure challenges. Together, Veolia Nuclear Solutions and VNS Federal Services deliver an integrated value chain to the nuclear industry that includes a comprehensive range of innovative technologies and robotics, engineering, waste operations, and infrastructure and analytical services for facility operations, remediation, decommissioning, and the treatment of radioactive waste. Veolia Group aims to be the benchmark company for ecological transformation. With nearly 220,000 employees worldwide, the Group designs and provides game-changing solutions that are both useful and practical for water, waste and energy management. Through its three complementary business activities, Veolia helps to develop access to resources, preserve available resources, and replenish them. In 2021, the Veolia group supplied 79 million people with drinking water and 61 million people with wastewater service, produced nearly 48 million megawatt hours of energy and treated 48 million metric tons of waste.
About CTI
CTI is a multi-disciplinary environmental services, engineering design, civil construction/ remediation firm focused on successful project delivery. CTI self-performs the majority of project scopes including environmental investigations; geotechnical and civil engineering design and consulting remediation of soil and groundwater; deactivation and demolition; landfill design, construction, closure and operations; and heavy civil construction and construction management. CTI's technical diversity and self-performance capabilities, coupled with our ability to integrate planning, analysis, engineering design, construction, and operation services, ensures safe execution and project success. CTI strives to provide complete project solutions that consistently meet and exceed stakeholder expectations. CTI's proven 46-year history includes execution of contracts and projects for federal agencies as well as large industrial and commercial clients. With more than 170 professionals, CTI serves clients across the country and provides the geographic reach and timely solutions to protect, enhance, and restore our environment.