VNSFS has been showcasing the capabilities of GeoMelt® for several years now under contracts with the Idaho National Laboratory (INL).
In late 2019, the team completed treatment of 934 drums containing residual radioactively contaminated sodium waste using our 10-ton GeoMelt® In-Container Vitrification (ICV™) system located at the Perma-Fix Northwest facility in Richland, Washington.  The demonstration treatment effort took place over a series of melts that were performed over a year.
The drums were contaminated with residual amounts of low-level radioactively contaminated elemental sodium from the Enrico Fermi Atomic Power Plant.  INL had maintained and monitored the drums since the 1980s (when the drums were originally received in Idaho), prior to shipping them to Richland for the demonstration treatment effort. 
GeoMelt® has treated more than 26,000 tons of hazardous, radioactive, and mixed waste since it began commercial operations in 1993.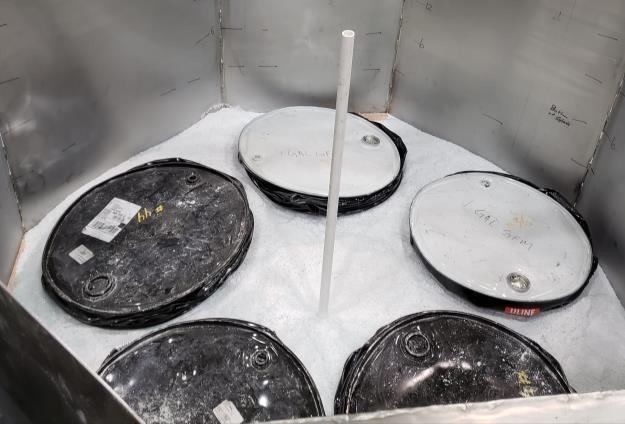 The process has a variety of advantages over other reactive waste treatment technologies, including:
it allows for a disposition path due to removing the reactivity and ignitability waste codes; 
it does not generate hydrogen;
it reduces time-consuming pre-treatment; 
it can handle variability in waste streams; and 
it eliminates any problematic secondary waste.
So, how does GeoMelt® work?
Uses Joule heating to melt waste materials to destroy or immobilize contaminants of concern
The final product is a durable natural obsidian-like glass (volcanic glass)
Treats contaminated soils, sludges, metals, organics, bulky D&D debris, etc. simultaneously, with little or no pre-treatment steps
Can be deployed in variety of platforms (remote, facility, etc.)
The VNSFS Technology Operations Group is pursuing a number of other opportunities globally where GeoMelt® is seen as an innovative approach that reduces the lifecycle cost and schedule of waste disposition while also increasing safety for workers, the nuclear cleanup industry and the public.
Veolia Nuclear Solutions' GeoMelt® technologies are a group of vitrification processes that are configured in a variety of ways to meet a wide range of radioactive and hazardous waste treatment and remediation needs.